About Hotel Services
Despite our smaller building size and 30 guest rooms, the Hotel Coolidge is able to offer a variety of different room sizes and bed sizes to more guests. Whether you just plan on spending the night or are looking for a beautiful extended stay option, you'll find it all here with us.
We offer several different accommodation styles to choose from, perfect for any sized traveling group or budget. For those seeking smaller rooms for a shorter stay, the best deals can be found with our economy room packages. For a great mix of value and price, the standard rooms are ideal. For the best in family vacation hotel rooms, enjoy our larger family rooms. And for those seeking the most comfort possible for lower rates, please enjoy our biggest guest suites! No matter what you need for the perfect hotel stay, you'll always find a great deal by booking with us!
Read about our hotel policies here. If you have any questions, please contact us directly at (800) 622-1124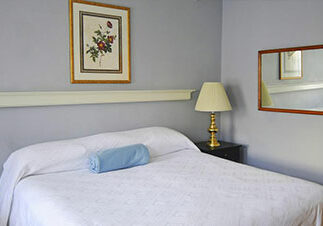 Standard Rooms
For a classic hotel stay in a historic inn, Hotel Coolidge has great room rates on standard sized hotel guest rooms. These regular sized guest rooms come with the option of having just one bed or more than one, and with different bed sizes of twin, full, queen, or king.
1 room (#130) is available with accessible features. Learn more about our accessibility.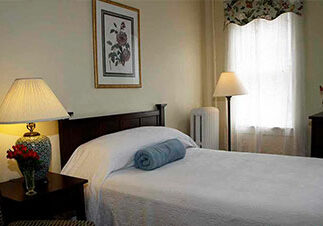 Economy Rooms
The economy-sized guest rooms at Hotel Coolidge are ideal for anyone looking for a great value on a room that has less space and lower rates. We are able to offer a rock bottom rate on a room that doesn't sacrifice standard amenities for you to experience a great night's rest without missing out on what you need.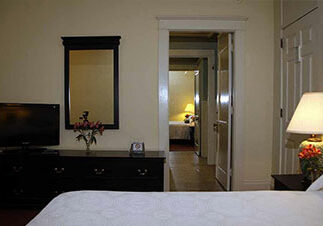 Linked Rooms
For the traveling group of friends or those just looking for a different guest room experience, the linked room option has two rooms with a shared bathroom in between. Conveniently sold as units, this includes all beds noted within the two rooms.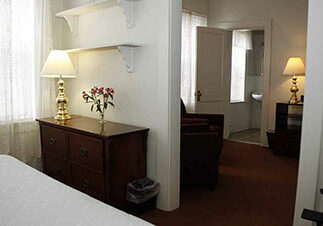 Guest Suites
For the best rates on spacious stay needs or for the most comfortable night possible, our largest guest suites offer the best value! Our guest suites are offered with either queen beds or king beds giving you a larger, comfier mattress and a cozy sitting room. Or, for the largest room available, enjoy our senior suite, complete with a large sitting room and breakfast nook.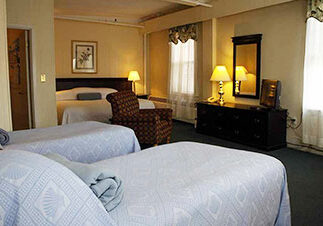 Family Rooms
Our Family Rooms are perfect for an unforgettable trip to Vermont. These guest rooms are larger than our standard size and can be booked with either adjoining rooms or separately. You'll find plenty of room for everyone, comfortably sleeping two to four guests per room depending on your bed size preference.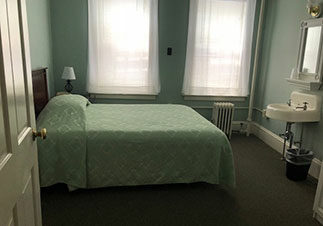 Coolidge House
This wing of the hotel is designed for guests needing to stay in town for extended period of time. Whether you are moving to the area, changing residences, apartment hunting, or in town for a long business trip, we have you covered. With monthly rates available, this interim housing is a great option for those who need it.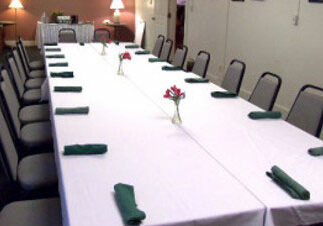 Meeting & Banquet Rooms
You'll find the Hotel Coolidge the ideal destination for a family reunion, wedding reception, and for business meetings. With five different event spaces for any type of get together, you can enjoy the convenience of having a spacious room for your needs. We can accommodate small and large gatherings and configure your meeting space to meet most requests and layouts. Perfect for any family event or corporate retreat, we can offer you flexibility and convenience.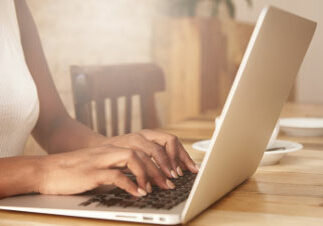 Free Internet
Just because the Hotel Coolidge is in a historically constructed building doesn't mean that our guests have to forgo modern conveniences. One of the many ways that you can save on a better hotel accommodation for you and your family is with our complimentary high speed Wi-Fi for guest use. Instead of charging an added Internet connection fee, you can enjoy a fast Internet connection from the comfort of your hotel room. Or, if you prefer, we also offer a guest use computer center.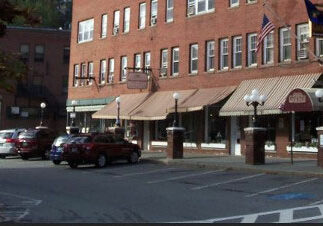 On-site Parking
We understand that in most downtown city districts, finding parking can be a real hassle. But when you book a stay with the Hotel Coolidge, all of our guests can enjoy free on-site self parking. And because most of the immediate points of interest are conveniently located within walking distance, you may not even need to drive at all during your stay. You'll find us a much more ideal choice than having to use parking meters. It's just one of the many ways you can save by choosing us.